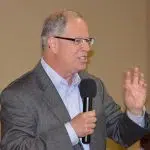 Leading others begins with leading yourself.  Our "Principles of Personal Leadership Course" is available at two levels. The goal of the course is to enable you to answer the key questions of personal direction and develop a plan to proceed. Let's get started!
Option One: Fill out the form below to download the student manual to use as you watch the recorded sessions with no charge.
Option Two: The Directed Study is an interactive tool which includes an expanded manual with recommended textbooks and video conference mentoring appointments with Terry King.  Contact Us here to receive details including the application form, material costs and tuition charges.
Sign up and gain access to our Principles of Personal Leadership Student Manual PDF.